mtv.com abandons Flash experiment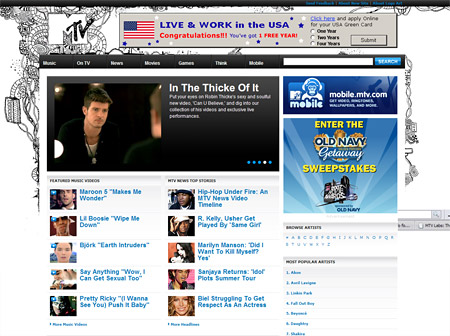 Back in October MTV redesigned their flagship site mtv.com using Flash. Last week they redesigned the site again, abandoning the Flash experiment and reverting to an HTML design. On the MTV Labs blog MTV cite user dissatisfaction with the Flash version as being the primary reason for the switch. Alexa traffic stats show that the site had its lowest usership ever during the 8 months the Flash site was running.

Curiously, much of the feedback from users on the new redesign has been negative. Largely, it seems that users are dissatisfied with the way video plays on the new site, with many complaining that video loads slower or is blocked. Of course user criticism should be taken with a grain of salt – in my experience users with a gripe are more likely to take the time to provide feedback than those without any issues. Personally I found video playback worked fine, other than videos which are blocked from non-US audience members for copyright reasons.
From a design perspective I find the new site to be robust and functional but fairly plain. The addition of MTV "HATS" (Header Art Treatment) spices things up by randomly changing the site background on each page you visit. HATS are submitted by the MTV audience, which gives up-and-coming graphic designers a great venue to show off their skills. The prominent addition of a 'Live and work in the USA!' banner ad across the top of the site is one layout 'enhancement' I could do without, and cheapens the site design somewhat.
Flash is still used for video playback throughout the site, but I wonder if it could also have been used to enliven the homepage more: the feature rotator is so graphically simple that at first I assumed it was controlled by JavaScript not Flash.
Dan Cederholm of Simple Bits served as a consultant to MTV for the redesign.