Papervision 3D

If you work with Flash at all, by now you will have heard of Papervision 3D, the open source project that has turned the Flash world on its head by introducing a 3rd dimension. I had a quick play with Papervision 3D a few months ago and found it surprising easy to pick up. It is now in public beta so I decided to dust off my old project and rewrite it in Actionscript 3.
3D image gallery demo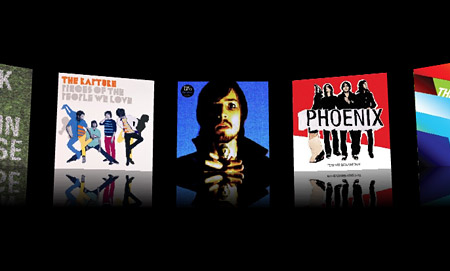 Inspired by Antti Kupila's stunning 3D interface for last.fm, I created a simple gallery of album covers using Papervision 3D. For the reflections of the album covers I have used Pixelfumes' Reflection class.
View demo
Download source
If you're curious to see how I put this demo together, take a look at my Flash source files.
Using Papervision 3D
The biggest challenge for me was porting my code to Actionscript 3, as it was the first time I had written AS3 code. But as far as Papervision 3D itself, it really is a piece of cake to get your head around. The documentation that comes with Papervision 3D is a bit hard to follow, but if you download the zipped version of Papervision 3D from Google Code it contains a bunch of great examples which help to introduce the basic concepts.
The cool thing about Papervision is how it can be adapted to all kinds of 3D applications. My main interest is in the possibilities for creating 3D application interfaces, but people have also created 3D games, models and animations. Expect to see a lot more 3D Flash in the next couple of years!