The trouble with content management systems
When I started out as a web designer, content management systems belonged strictly to the realm of big budget websites. For everyone else, it was perfectly normal for a web designer to manually update a site whenever a change needed to be made. Clients didn't expect a CMS to be included with their website, and web designers didn't offer the option. Times have certainly changed, and in an age of blogs, Facebook, and MySpace, clients expect to be able to take control of their website's content.
For most web designers, especially those who work solo, a custom built content management system is still a tall order. Fortunately there are numerous commercial and open source content management systems available, which offer a practical and affordable means of wrangling content. However, a "one size fits all" content management system that doesn't address a site's specific content requirements can introduce as many problems as it solves.
One page, one blob
The easier a content management system (CMS) is to configure and use, the more restrictive it is likely to be. HTML and CSS offer a rich toolset for describing and presenting all kinds of content, yet most CMSs cannot be configured to address the myriad types of content a content editor needs to display. Instead, the content editor is given the ability to modify just one "blob" of content per webpage. This format suits the majority of webpages, but assumes that the content editor is happy to have just one block of plain text per page, or that they are comfortable styling text with regular HTML tags, or a 'simplified' variation such as markdown. For the novice, HTML is hardly child's play, and trusting a client to write compliant markup is optimistic to say the least. That's where WYSIWYG (What You See Is What You Get, pronounced "wizzywig") editors come to the rescue, and that's when problems start to creep in.
The WYSIWYG problem
The WYSIWYG editor is at the heart of most modern content management systems, if not by design, then because web designers install one themselves. They are used as a "cure all" by CMS developers and web designers alike, because they provide content editors with a powerful interface for styling content, using a toolset that replicates the desktop word processors with which they are already familiar. The two most popular WYSIWG editors are TinyMCE and FCKEditor. Both use Javascript to enhance a regular HTML textarea, and do so via a menu of buttons similar to that found in Microsoft Word. This probably sounds ideal – a website's content editor can take total ownership of their content, styling it in any way they please. But content editors are precisely that: editors. They are not designers, and shouldn't have to – or be allowed to – make decisions that affect the design of their content. Sadly, this is exactly the power that WYSIWYG editors put at their fingertips.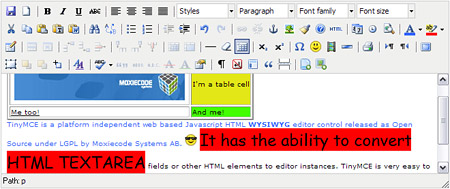 Let loose with a WYSIWYG editor a content editor can mix and match font size, face and color, and even add tables, images, background colors, and emoticons to a webpage. If you think they will have the self control to exercise restraint, think again. Even the ability to alter the appearance of text can have disastrous results. I have seen a content editor use a WYSIWG editor to set body copy in 16 point, 12 point, and 10 point at various places on the same page, and in three different typefaces. Another client inexplicably changed the color of list items to exactly the same blue used throughout the site to indicate hyperlinks. The impact such misguided decisions have on usability and design should be obvious.
Of course the blame doesn't lie with the content editor. They don't have training as a graphic designer, nor can we expect them to grasp the subtleties of interactive design. The problem is that WYSIWYG editors mix the description of content (headings, lists, blockquotes) with its design (typefaces, colors, and point sizes). Web designers have long understood the importance of separating content from presentation, but WYSIWYG editors snatch that separation away from us.
Dial it back
Fortunately, most WYSIWYG editors allow you to limit their functionality to suit your needs. This can either be done using a CMS's administration interface, or by editing a configuration file. When faced with a WYSIWYG editor I dial its functionality right back, leaving only the core set of tools needed to effectively describe content. Does a content editor need to specify background colors for text? Of course not. The size of text? Nope. Paragraph alignment? Uh-uh. Tables? Lets not even go there. I don't even let a content editor underline text. Why? Because underlined text looks like a link.
Headings (h1, h2 etc), bold, italic, ordered lists, unordered lists, blockquotes, and hyperlinks: these should provide sufficient scope to describe most types of content. Let your regular CSS stylesheets style the output, and you'll ensure the rendered content fits seamlessly with your existing website layout.
The copy and paste problem
WYSIWYG editors present another problem I haven't touched on yet. Usually a website's copy isn't typed directly into a content management system, it is composed in a word processor, then pasted into the CMS. When this happens the formatting of the source text is brought across too, warts and all. Despite your best efforts to limit your client's ability to style content, with one keystroke they can inadvertently bypass your safeguards. There are two solutions to this problem. The first involves education. Both FCKEditor and TinyMCE include a 'paste as plain text' button, that gives users the option of stripping all formatting from text as it is pasted into the WYSIWYG editor. The only problem is that your client needs to remember to use the button. The second option is more pro-active. Both FCKEditor and TinyMCE have a configuration setting that forces content to be pasted as plain text.
What about web standards?
A criticism often leveled at WYSIWYG editors is that they produce spaghetti code. In part, this is true. The only way a WYSIWYG editor can define the color of text, for instance, is by applying an inline style to your markup. But if you limit the WYSIWYG to a few core capabilities, as I suggested above, there is far less that can go wrong. The developers of WSIWYG editors are mindful of the need for standards compliance, and I have found that in most cases it isn't hard to get both TinyMCE and FCKEditor to generate tidy markup.
Other options
Building a CMS from scratch is a huge task. I ought to know – most of my websites are powered by a CMS I built myself. Unless you are a competent programmer and have a heap of time up your sleeve (or just enjoy a challenge!), building your own CMS isn't an option I would recommend lightly, but the advantages of the DIY route certainly pay off in the long run.
Building your own CMS gives you absolute control over how the software functions, allowing you to customize it to your own needs with fine grained control. When something breaks, you know how to fix it. If you want to add a new feature to the CMS, you just go ahead and add it, rather than submitting a feature request to the software vendor and crossing your fingers.
Another option to consider is XStandard, a WYSIWYG editor that touts its standards compliance and accessibility features. The big drawback I can see with XStandard is that it requires the content editor to install the XStandard application on their local machine. By contrast, a javascript based WYSIWYG editor makes your website editable from any computer sporting a modern web browser.
Whichever approach you take to content management, so long as you give careful thought to both your client's needs and the pitfalls of giving them free rein, it is possible to strike a balance that keeps everyone happy. Giving clients the ability to edit their website's content, and creating beautiful, standards compliant websites needn't be mutually exclusive goals.