Lightweight project management with Backpack
Basecamp is the grandaddy of online project management applications, but I recently discovered that its little brother Backpack can also hold its own as a project management tool.

One of my work related New Year's resolutions was to plan projects more effectively. Last year I frequently found myself juggling half a dozen or more active projects and it was difficult to keep track of the bigger picture – project deadlines would frequently clash, and managing my workload and client relationships became a delicate balancing act. I desperately needed a better system for planning projects, and software to help me implement the system.
I started out by making a list of features the application needed to have:
Web-based, so it can be accessed from any computer
The ability to keep projects separate from one another
A calendar to which meetings and project milestones can be added
To-do lists for keeping track of upcoming tasks
Gantt charts (or similar) to provide a visual overview of time allocated to each project
Why not Basecamp?
I have always had great success using Backpack's to-do lists for day-to-day task organization, so the obvious place to start my project management hunt was with its big brother, Basecamp. Sadly, I found myself frustrated by Basecamp's lack of features.
Most conspicuously, there is no standalone calendar in Basecamp, or any way to keep track of meetings and events that occur at a specific time of day. Nor is Basecamp able to display Gantt charts, even in their most basic form. The folk over at 37signals, the developers of Basecamp, have firm views about Gantt charts and it seems extremely unlikely this form of project visualization will ever find a place in their software. Since my goal is to gain an overview of all my projects by blocking out time for them in my schedule, some sort of simple project visualization is essential. It's all very well to set milestones for each individual project, but I also need to know at a glance how the projects relate to one another.
I also got the feeling that Basecamp's true strength lies in facilitating communication between team members, rather than project planning or task management. I have a contractor working with me one or two days a week, but essentially I am a one man show, so group collaboration is low on my list of priorities.
The rest of the bunch
After turning my back on Basecamp, I did the rounds of its competitors and clones, of which there are many.
The software that impressed me most was Zoho Projects, which actually met all of my technical requirements. The only problem was that the interface was too cluttered for my tastes, and more critically, it was buggy. After clicking a button within the application I would frequently find myself staring indefinitely at a spinning AJAX loader animation. A second click would achieve the desired result, but the experience gave me serious doubts about the usability of Zoho Projects.
GoPlan also looked promising, but reading their forums and blog it became clear that the application receives updates very infrequently, which made me hesitant to open my wallet. I am not prepared to pay an ongoing fee for software that is left to languish by its developers.
Back where I started
After several evenings spent test driving online project management apps, I was ready to throw in the towel. Despite what I considered to be fairly simple requirements, nothing seemed measure up. Then it occurred to me that perhaps Backpack might be flexible enough to do the trick.
Rediscovering Backpack
I have been using Backpack for basic task management for some time, keeping track of the jobs I need to tackle during the day with a simple to-do list. I always assumed this was the most I could expect from the software, but when I dug deeper into its feature set I realized Backpack can also fulfill a more complex project management role.
Organizing projects
When it comes to organizing projects, Backpack doesn't have an equivalent to the project paradigm which defines most project management applications. Instead it has 'pages' which can include any combination of to-do lists, notes – and in the paid version – files and images. However, by dedicating a page to each project it is possible to give each a dedicated area within Backpack, and keep jobs separate from one another.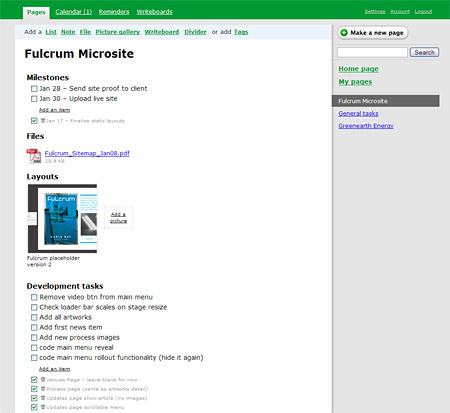 Using the calendar to plan projects
By upgrading from the free plan to the $5/month plan I gained a standalone Calendar within Backpack. It isn't possible to add project specific milestones to the calendar, but standard calendar events provide an adequate substitute. And unlike Basecamp, Backpack allows me to specify the date and time of calendar events, which is useful for scheduling meetings.
Another powerful feature of the Backpack calendar is that events can span several days, making it perfect for emulating Gantt charts. For example, a typical website project might require four multi-day events: Pre-Design, Design, Development and Deployment. By creating a separate color coded calendar for each active job it is easy to get a visual overview of the time allocated across all projects, which should make project scheduling far simpler.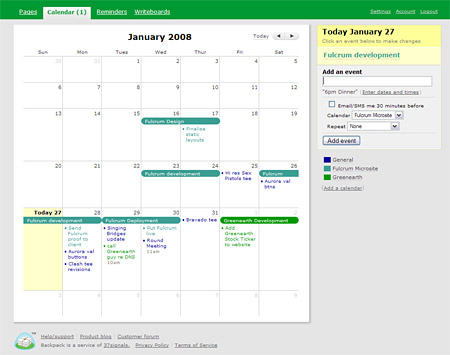 File management
Backpack's paid plans also include the ability to upload files and images, which is handy for archiving mockups, sitemaps, and other project development files.
Group collaboration
When it comes to granting project permissions for clients and other team members, Backpack is fairly lightweight. This isn't surprising, since it is intended as a task manager for individuals rather than businesses. Unlike Basecamp, it isn't possible to grant clients or team members access to your Backpack account without requiring them to sign up for their own Backpack account first. This makes Backpack fairly impractical as a tool for client collaboration, however it is adequate for basic collaboration between team members. When you share a page with other Backpack users, they can edit content on that page with full permissions. If the page is part of your paid plan and allows file and image uploads, shared users have access to those features too.
It may not pack the punch of Basecamp or other more complex project management apps, but for a freelancer like myself Backpack is a perfectly viable alternative. If I ever take on permanent staff then I may need to look elsewhere for more sophisticated team collaboration features, but for now Backpack will do nicely.