Reconsidering Arial
My friend John Gillespie recently wrote about the inauspicious origins of the Arial typeface, namely that it is a blatant copy of Helvetica. While I agree with the general thrust of John's argument (I'm a self confessed Helvetica fanboy) I do think that Arial has one redeeming feature that deserves mention, especially in the context of web design: Arial renders better at small point sizes on Windows systems than Helvetica does.
Hinting
The reason Arial looks good at small point sizes is because Microsoft pay a lot of attention to the hinting of their web fonts so that they render well on screen.
To quote Wikipedia's article on Font Hinting:
Font hinting is the use of mathematical instructions to adjust the display of an outline font so that it lines up with a rasterized grid. At small screen sizes, with or without antialiasing, hinting is critical for producing a clear, legible text for human readers.
Fonts that have not undergone a rigorous hinting process tend to look fuzzy or poorly spaced when forced to align to a computer monitor's pixel grid. Helvetica is a case in point: it renders very well on Mac systems even at small point sizes, but on Windows systems it looks, frankly, crappy.
Arial vs Helvetica
To demonstrate, here is a comparison between Arial and Helvetica on a Windows system. You will notice that Arial's anti-aliasing is much crisper than Helvetica's at larger sizes, and that Helvetica's kerning falls to pieces at sizes smaller than 12px. These defects are especially evident when viewing an entire webpage set in Helvetica.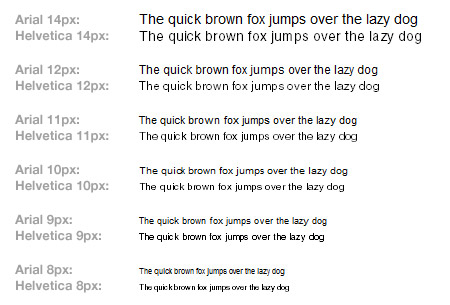 I performed the test above in Firefox 3.5 and Internet Explorer 8 on Windows Vista, using both Adobe's OpenType Helvetica LT Std and a Linotype PostScript version of Helvetica, with identical results.
Arial on the Mac
On a Mac the story is quite different. Arial and Helvetica look virtually identical (as they should), and both remain perfectly legible at 8px. This might be because Apple's font rendering engine is superior to Microsoft's ClearType, or perhaps the version of Helvetica that ships with Mac OSX has been hinted to retain legibility at low resolutions.
Whatever the case, the fact remains that Arial looks better on Windows than Helvetica does. Does this make Arial a superior font than Helvetica? Not by a long shot. But it does serve to illustrate Arial's suitability for the Windows environment, which still accounts for over 90% of all web traffic.
Does Arial deserve reconsideration?
So what do you think – does Arial's superior hinting on Windows systems elevate it beyond the status of a substandard Helvetica clone, or is it beyond redemption?
A note about Win/Safari
If you use Safari on a PC you may have noticed that Arial renders differently than than in the screenshot I provided. In fact, it renders exactly as it would on a Mac. That is because Safari offers the option to use Apple's font rendering engine rather than Microsoft's ClearType. Sadly I couldn't test whether Helvetica's rendering was similarly improved in Win/Safari, because Safari refuses to recognise any of my non-system fonts. If anyone can shed light on this issue, please leave a comment below. I'm very curious to know if Helvetica's substandard appearance on Windows can be attributed to a deficiency in ClearType rather than a deficiency in the font (I suspect the former).