Book Review: Volume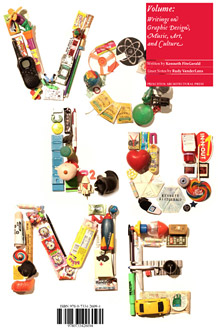 While I was twiddling my thumbs waiting for my last Amazon shipment to arrive I asked my studio mate if he had any design theory books I could borrow. "Aha! I've got just the thing", he said (or words to that effect) and plucked a copy of Kenneth Fitzgerald's Volume from his bookshelf. The author's name didn't ring any bells, but the book's back cover promised a survey of "the discipline of graphic design in context with the parallel creative fields of contemporary music and art". Since I love graphic design, music and art, I figured I was on to a good thing.
Kenneth Fitzgerald is an Associate Professor of Art at Old Dominion University in Norfolk, Virginia, and has previously written for Emigre, The AIGA Journal of Design, and Eye. Many of the essays collected in Volume first saw print in the pages of one of those publications, though all but one were new to me. Thankfully the vintage of the older articles has done little to dull their impact, and even the essays written in the 1990s seem topical today.
In his writing Fitzgerald explores the connections between graphic design and other cultural forms, particularly music and art, and many of Volume's essays make the case for a more inclusive understanding of graphic design's place in the world. I worked in art galleries for several years before becoming a graphic designer, and I found Fitzgerald's no-nonsense critiques of the art world to be right on the money.
Fitzgerald takes a similarly unsentimental view of the design profession, and is unswayed by the star power that is frequently attached to its high achievers. In Volume he exposes the class system that operates largely unchallenged in the design sector, and the role that money, privilege and celebrity play in shaping the field. In the process several of graphic design's sacred cows are roasted – Stefan Sagmeister and Paul Rand are both singled out – which makes for entertaining reading.
Another theme he returns to frequently is the profession's preoccupation with formalism and suspicion of critical theory. This sometimes comes across as self-referential – design theory about design theory – but that doesn't detract from the relevance Fitzgerald's ideas hold for designers working "in the trenches", and he clearly sees the need to break down the barriers that separate design critics and practitioners.
It's not all good though. Sometimes Fitzgerald repeats himself, treading the same ground in different essays, and he seems more adept at pointing out problems with the state of design than he is at proposing solutions. But those are minor quibbles about an otherwise very enjoyable collection.
If you're tired of reading puff pieces about celebrity graphic designers and want to sink your teeth into something that will challenge your mind rather than your eyeballs, Volume may be just what the doctor ordered.
You can read more of Kenneth Fitzgerald's writing on his website, Ephermeral States.